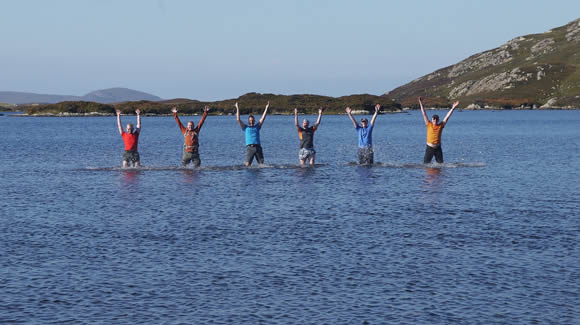 Attending your first OutdoorLads hostel event could be a daunting experience if you don't know what's going to happen. This guide is provided to try and explain the elements of a general hostel weekend; some hostels are specific to different activities and whilst some do vary, the majority fall into this pattern.
We've gone into a lot of detail here and it might make the event look prescriptive. However, we've had feedback from members telling us they'd wished they'd known what was going to happen before their first event as it would have considerably reduced their anxiety beforehand.
There is a lot of information here; probably too much for some people. If you don't like detail skip to the headings that are of interest. If you do like detail, read on!
Accommodation
OutdoorLads tries to pitch its events to make them financially accessible to as many of our Members as possible and thus we purposefully aim for the 'value for money' end of the accommodation spectrum. The majority of our hostels are Youth Hostel Association properties and we usually take the hostel over completely so that we are the only people there.
For those who haven't been to a YHA property, the facilities are basic but clean with rooms sleeping from 2 up to 16 in the larger buildings, usually in bunk beds. 5 star hotels they certainly aren't, but value for money and fun, they are.
The YHA usually provide bedding but no towels or shower gels or shampoos, so you'll need to bring these yourself. There is a section towards the end of this guide covering what you usually need to bring to an OutdoorLads hostel event.
Volunteering
The price you pay for the hostel event covers the accommodation and some of the food but the hostels come unstaffed and the events work because it is expected that everyone volunteers to help out during the weekend. The leader isn't paid for the event and certainly are not expected to do everything. They already have to plan the meals, buy the food, arrange to meet the hostel wardens, welcome everyone, plan and possibly run the events during the weekend and be responsible for the hostel being clean at the end of our stay. In order to do this, they will need help and it is expected that everyone will volunteer for some jobs during the weekend. You won't have to do everything; it might be that you help prepare the Saturday meal or that you do some cleaning on the Sunday, but everyone needs to chip in to make the weekend a success.
Arrival
The event page will contain directions to the hostel and also an arrival time, usually something like 17:00-20:00. Don't arrive any earlier than the first time mentioned because the hostel leader needs to get the keys, take the safety briefing and prepare for people to arrive so before that time, the hostel won't be open. On the other hand, if you can't get to the hostel before the later time, don't worry; just let the leader know via a message on the website what sort of time you will be arriving and he will make a note so as not to start worrying if you don't show and also he will let you know what to do about dinner.
When you arrive at the hostel, the first thing you need to do is check in with the event leader. He will confirm your attendance on the event list and then let you know which rooms have space available in them and also a rough plan as to what will be happening that evening.
Rooms
The beds in the rooms are first come, first served. When you choose a bed, put your bag on it so that people arriving later will know that the bed is taken. The bottom bunks tend to be more popular than the top. YHA beds will come with the bed needing to be made up – the sheet fitting to the mattress and the pillow case and duvet covers putting on. It is wise to do this as you choose your bed, as this way you won't have to do it later at night, when it may be dark in the room as some people have already gone to bed!
If you haven't been hostelling for a while or even ever, this might be the first time that you sleep in a room with quite a few other people. It may seem a little strange at the beginning but you soon get used to it. As there can be quite a few people sleeping in the rooms there is very often snoring at night. If you are a light sleeper, make sure that you bring a set of ear plugs. These can be easily obtained from your local chemist, are very inexpensive and well worth keeping in your wash bag.
Continued on page 2...