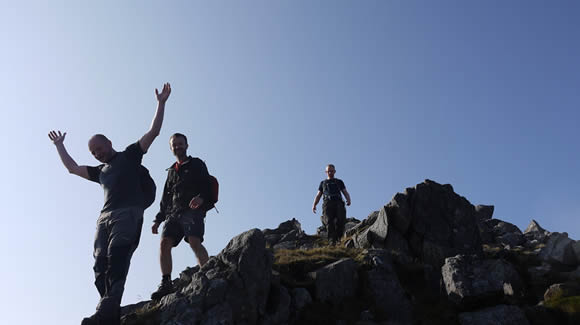 Attending your first event with OutdoorLads can be daunting – you don't know what will be happening or what the protocol is. So we've prepared a detailed description of what happens on a typical day walk, what's expected of you and also what you should bring along.
We've gone into a lot of detail here and it might make the event look prescriptive. However, we've had feedback from members telling us they'd wished they'd known what was going to happen before their first event as it would have considerably reduced their anxiety beforehand.
There is a lot of information here; probably too much for some people. If you don't like detail skip to the headings that are of interest. If you do like detail, read on!
General Information
Let's assume that you have registered for the Day Walk event and are on the attending members list. What do you have to do?
Day walks are easy! The event page tells you what time the walk starts and exactly where the start point is. The walks are usually chosen to be accessible via public transport wherever possible. Most walks are circular, ie they finish where they start. However some are linear and so the end point is not the start point. In this case, the leader will have planned a way to get back to the start using public transport. This will usually cost a few pounds so make sure that you bring the cash for that. The amount will be mentioned on the event page.
Clothing
In terms of the clothing and footwear that you bring, that's really up to you. Jeans are a bad choice as if they get wet they absorb moisture and become cold, heavy and take ages to dry. Walking trousers are a much better option as they are very quick to dry and don't get heavy when wet. They can be found in any outdoor shop such as Go Outdoors, Decathlon, Blacks, Millets and higher end stores such as Ellis Brigham and Cotswold Outdoor as well as at online retailers such as Amazon.
In winter, it may be worth wearing a pair of thermal long johns under your walking trousers as they can be thin and not very warm.
Walking tops or base layers are good as they wick moisture away from the skin and prevent the cold sweat sapping your body heat. The disadvantage is that they can smell pretty bad at the end of the walk as they eat sweat, but that's a small price to pay for the benefits that they bring! In addition to a walking top, you will probably also need a fleece, even if you think that because you are walking, you will be warm enough. It is amazing how quickly the cold can seep in when you stop exercising, such as when you break for lunch. Try and get a fleece that can be stored in your rucksack during the walk, when you don't need it.
Your outer layer will be a coat of some kind. Ideally it should be waterproof and include a hood to keep your head dry. Some brands of outdoor activity coats have a waterproof but breathable outer layer that is meant to stop you sweating so much. Whatever you choose, as long as you have something that can keep out the rain and especially the winter wind, you'll be fine.
In addition to the above, some people also keep a set of waterproof over trousers and jacket in their rucksacks. These are used when it pours down and can (supposedly) be rapidly fitted over your other gear without taking it off. The benefit is that they add another waterproof layer to what you are wearing. For a hiking expedition they are invaluable. For a day walk in the lowlands of the UK, they are not necessary but can be useful. Without them, your coat and trousers will get wet, but they should both be waterproof and at the end of the walk you will be back home and be able to dry all your gear.
Footwear
Walking boots are definitely the best footwear to wear on our walks. The only time this isn't the case is for flattish walks in summer when the ground is dry. In those conditions, trainers with a good tread will probably be OK. If you have any doubts about what to wear, ask the walk leader via a message on the website before the event.
All the above gear ranges in price from very reasonable to quite a lot for the latest designer brands. Don't worry which to go for; any of them are better than jeans and trainers and you will see the full range in action on most of our walks!
Full Members of OutdoorLads are also entitled to a discount from Cotswold Outdoor shops.
Continued on page 2...