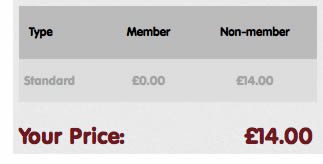 We recognise that not everyone wants (or is able) to sign up for Full Membership of OutdoorLads so we're pleased to offer a 'Pay As You Go' model for our day walks, mountain biking, road cycling and outdoor climbing events. This allows Guest Members (those whose 42 day free trial has ended) to still take part in these events without having to sign up for a Full Membership. This makes OutdoorLads more accessible and is degisned to cater for those who may only attend one or two events a year.
If you choose our Pay As You Go model you'll pay £14 for each event you take part in. This is calculated at £10 + our bank processing costs + VAT.
Of course, we'd rather you become a Full Member and you can join OutdoorLads from as little as £21 for three month's Membership or take advantage of our Direct Debit offer and get your first year for just £27.50! There are lots of advantages to becoming a Full Member; choose 'Join Today' from the 'Membership' menu above to find out more.
Guest Members can also attend our hostel and camping weekends but won't get the £10 per night discount available to Full Members.