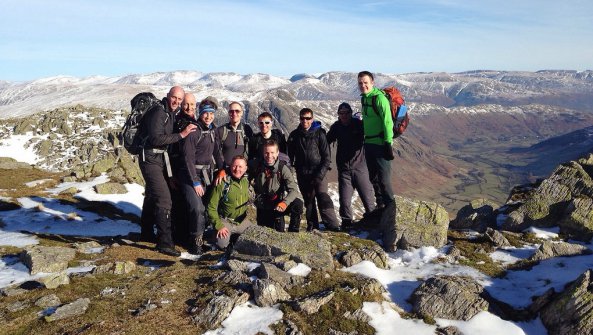 We're very proud to announce the launch of the OutdoorLads Foundation. At our AGM in 2015 we talked about what we can do to enable more people to enjoy the OutdoorLads magic and get involved in our activities who, perhaps through financial or life circumstance, may not otherwise be able to.
The OutdoorLads Foundation is a restricted pot of money that will allow potential or current Members to engage in our events. This money will be generated through fundraising and external grants and bids. The Foundation has two projects:
Financial Assistance for Members where we offer financial support for current Members who are experiencing financial hardship or difficult life circumstances. This support could be paying the event fee for a hostel weekend or providing a contribution towards travel costs. You can find out how to apply for financial assistance in the drop-down box at the bottom of this page.
Work with other charities where we look to generate and explore relationships with others LGBT charities around the UK. The aim is to support individuals to come on OutdoorLads events and enjoy the community and positive wellbeing so many of our current members experience.
As of October 2016, we've currently spent £501.35 as:
Member Support via Grants: £321.35 (five grants made to three Members)
Event Concession Discounts: £180 (nine grants made to six members)
So how can you get involved?
As a leader
Like all OutdoorLads events, we need leaders to run them. We are looking for a group of leaders who will be happy to support an individual come on an OutdoorLads event. This won't require a huge amount of additional work; just ensuring the potential Member is made to feel welcome, participates in the activities and enjoys the event.
If you are interested in volunteering, please email foundation@outdoorlads.com
Charity Networking
The OutdoorLads Foundation is going to be networking with other LGBT charities who will refer potential Members to us who may qualify for funding. There are huge numbers of charities out there who may be able to work with us. If you know of a charity and think we could work together, email foundation@outdoorlads.com with details or lead contact for that charity.
Sponsorship
We are very grateful to already have received a number of donations:
£1100 from the 2015 Keswick2Barrow Walk - a sponsored event by Members
£177.30 from The Great OutdoorLads Bake Off - a cake sale held at BIG Spring Camp 2016 (+ various donations)
£122.30 from the Boots Make the Difference Fund - employer matching from the above cake sale on behalf or one of our Members
£1000 from Manchester Pride Community Fund
£6000 from a Legacy Fund
£2814.27 from our 10th Birthday Party Night
£209.28 in online donations
£73.22 in donations from Thomas Haywood
£67 in bar donations at our BIG Halloween 2016 event
£99.50 in bar donations at our North Christmas 2016 event
£71.14 in donations at our Hogmanay 2016 event
£500 from the 2016 Keswick2Barrow Walk - a sponsored event by Members
If you would like to consider the OutdoorLads Foundation as the charity of choice for a sponsored marathon/walk/run/activity please let us know. We may be able to provide you with a OutdoorLads activity t-shirt to wear during your fundraise and help promote it via our social media feeds. 
Company Charity Selection
Companies often select a number of charities to make donations to annually. If your company or place of work does this, why not nominate the OutdoorLads Foundation. We will be able to provide promotional material and your company will also receive an annual impact report from the Foundation.
If you would like any further information on fundraising opportunities for the OutdoorLads Foundation please email foundation@outdoorlads.com
How to apply for financial assistance
It's easy to apply to the fund and, of course, it's confidential. Nobody on the event will know that you've received financial assistance.
Simply complete the online self-referral form and follow the instructions in it to submit your application.
Due to the administration requirements, please submit your application no later than two weeks prior to the event. We aim to respond within five working days. The OutdoorLads Foundation is unfortunately not an unlimited source of income. Based on the number of applications we receive we may not be able to cover the full costs of what you have applied for.
If your application is successful we will contact you as soon as possible. 
If you have applied for support with the event cost, the office staff will be contact to discuss payment options. 
If you have applied for contribution for travel, we maybe able to book train fairs if enough time allows for the tickets to be sent otherwise we'll need you to scan a receipt of the train ticket/recent fuel receipt and email it to foundation@outdoorlads.com and provide your bank's name, sort code and account number.