How to reset your OutdoorLads password
If you have forgotten your OutdoorLads password or this is your first time in logging into the new website you will need to follow the below instructions
First visit the request new password page at https://outdoorlads.com/user/password
Enter either your Username or the email address you originally registered on the site with.
Complete the CAPTCHA and click e-mail new password
Check your inbox for replacement login information email.  If you haven't received it after 10 minutes it may have been blocked by your spam filter, in which case you may need to add support@outdoorlads.com to your safe senders list.
Once you have received the email it will contain a single use link as shown below:
When you click the link it will take you to a special log in page.  Note the link can only be used once to allow you to reset your password.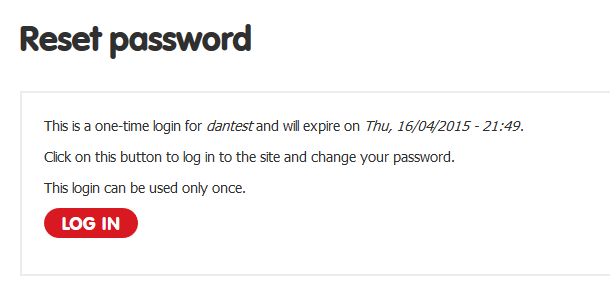 Once you click Log In you will be taken straight to the Edit Profile page where you are enter a new password.  Confirm the new password again making sure it contains a mixture of letters and numbers.

Scroll to very bottom of the page and click Save
IMPORTANT
The onetime link will ONLY let you update your password, if you attempt to change any other information or navigate away from the edit profile page the process will fail by prompting you to enter your current password.  If you receive this message you need to repeat the process again.